SEM for Ecommerce
SEM for Ecommerce
Learn to strategically position your ecommerce in search engines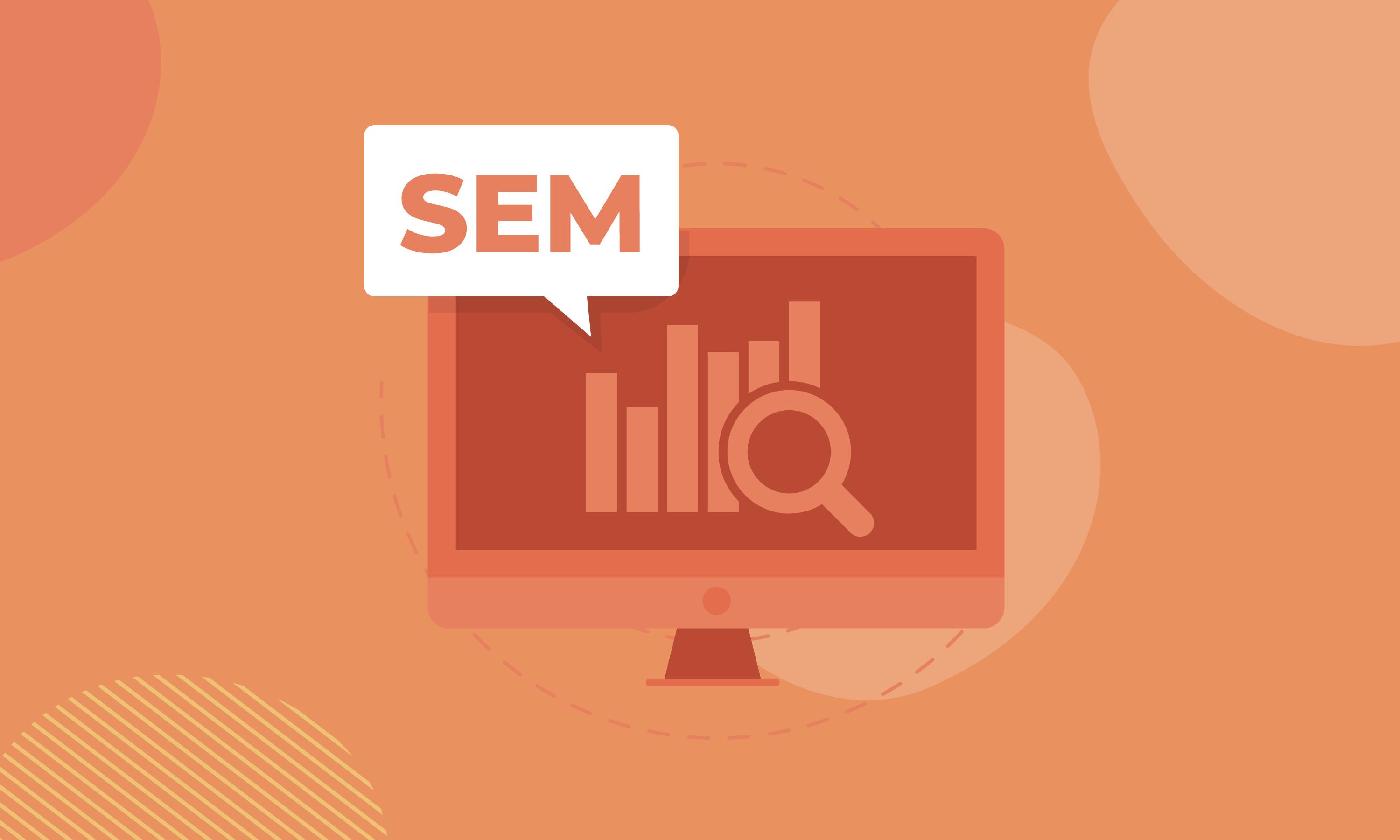 Your website traffic can be influenced by two types of online positioning: SEO or SEM, and this positioning is a favorable factor in your ecommerce because thanks to the traffic you can generate sales in your ecommerce. This time we are going to address the SEM for ecommerce to tell them about the importance of creating a web positioning strategy for your business.
If you have an ecommerce, the safest thing is that you will already try to promote it in the search engines, but doing it in a correct way involves strategy and before starting to talk about all those steps that you can take to optimize a SEM strategy it is important that you know more than full of what SEM is about for ecommerce.
SEM for Ecommerce
The SEM for its acronym in English means ̈ Search Engine Marketing ̈ and is clearly linked to the advertising that is done in search engines, that is, it is the paid traffic that your online store can receive, something like buying an advertising space in the search engines. But applying it is not only accepting advertising and creating it without guidelines referring to the products you have in your ecommerce. Because although SEO for Ecommerce is one of the map marketing actions used for its profitability, as long as it is executed correctly, favorable results will be seen.
It is also recommended that before applying an SEM strategy for ecommerce, you have a fairly optimized web page prepared to receive traffic and stay. For this reason you should always do both SEO (organic traffic) and SEM strategies for your ecommerce. 
How to make an SEM campaign for ecommerce:
Make ads more than to sell to reveal your brand

Learn how to drive traffic to the right website

Take the time to get to know your customers well

Make a thorough but effective search for Keywords

Make the timely follow-up of your SEM campaigns for ecommerce

Research what your competition is doing

Learn how to make the best bid for Keywords
Make ads more than to sell to reveal your brand
They will always tell you that you should make attractive advertisements but that is not the same as lying to attract, but rather to reveal to sell. Although it is necessary that the ads you make in the SEM strategy for ecommerce are attractive and call the click, you must also make sure you have a unique selling proposition. That is the quality that you offer and that your page is everything that is promised for each user who comes to your web page.
A common reality is that many ecommerce SEM ads fail because they don't make ads truly attractive to the user or because they sound too fake promotion. You need to take care that your ads never sound boring, if you are not convinced, redo them as many times as you think necessary. Make them attract the attention of the right person, for this always try to reveal the most important aspects of your ecommerce and thus attract the attention of the public correctly. 
Learn how to drive traffic to the right website
Once you know how to make attractive and engaging ads, make sure you drive your website traffic to the right page. When receiving traffic on your website, it is best to convert them, but after the click, the SEM did its job. That is why it is necessary that the landing is prepared to receive users, things like: having an optimized, fast page and that its structure is responsive.
In this way, it is essential that the link goes directly to the page where you want them to go, preferably that it is the page where the correct content is, for which the person has clicked. This, in order to avoid dropouts on the landing page and for it to be well targeted, it must be consistent with what is named in the SERPs. If your ad is confusing, you can direct the wrong people to it and that traffic will not really have meaning for your ecommerce. 
For example, when having an ecommerce it is recommended that you direct the interested parties of the products to the pages where that product is and not to a broken link or the main page of your ecommerce. In this way the abandonment rate of the site will be lower, because the user will be receiving exactly what was offered in the searches. 
Take the time to get to know your customers well
Everyone has an ideal client and a negative profile to see clearly, what in Inbound Marketing we know as ¨Buyer people¨, it is necessary that you already have well identified these people. So you can research the way they do their internet searches and deliver exactly the kind of valuable content they expect. If you don't take the time to get to know your customers, you may be creating content for the wrong person. 
In this way, investigate very well the keywords and search levels for which potential leads are looking for a service or product like yours. It is advisable to verify very well how your client buys through your website. Well, knowing his route allows you to offer him exactly what fits him and make the necessary improvements to make the visit to your online store more effective. 
In the same way, make sure to identify very well the pages of your website that carry out conversions, because those will be key points to improve your home page. Search for the most searched and sold products on your website so that you can optimize the pages where they are found and attract people appropriately as a result of them. 
Make a thorough but effective search for Keywords
Although this should be considered one of the first steps to carry out an adequate web strategy, it is necessary that you choose the right keywords for your ecommerce. Well, before starting an SEM campaign, you have to do a thorough search and create a list of keywords linked to what you do in your online store. You should also look for variations of that keyword and look for the ones that typically have the most search volume. To carry out this part there are a series of free and paid tools that help you position yourself in the right way. 
Make the timely follow-up of your SEM campaigns for ecommerce
Before you want to do many SEM campaigns for ecommerce again, be sure to measure the results of the first one. You need to learn to know how people relate to your type of content and product so that in each campaign you can fine-tune details. It is those details that will give you the necessary tools to better connect with your ideal audience, but not only that, which will help you understand what content they normally like to receive.
Measurements in marketing are necessary to improve strategies, because it allows us to identify the strengths and weaknesses in each campaign. Well, as you optimize the ads, you will significantly improve the conversion rate in your ecommerce. 
Research what your competition is doing
After all these steps, when creating an SEM strategy for ecommerce it is necessary to analyze the online competition. This way you can know their strengths and weaknesses as well. To analyze the competition you can use tools such as AhRefs and SEMRush, these allow you to see in detail the actions of your direct competition in search engines. Things like: what words do they rank for and how do they make their specs? 
In this part you can learn to track suitable and well-positioned keywords, but above all you must learn to choose the correct ones. In the same way, you will be able to obtain from these tools suggestions of keywords and contents that adapt to your field, according to the searches of other users. 
Learn how to make the best bid for Keywords
Another important part is learning how to make the best bid for Keywords, this is done in search engines like Google. The auction determines that the ads must be shown through an auction of ads that can be displayed every time someone searches for a product on Google. But before wanting to create an SEO campaign for ecommerce, three main factors are taken into account: 
Bid settings, which tell Google Ads how much they are willing to pay for each click on the ad, usually starts small and increases as the auction progresses 
Quality of the ads, for search engines it is necessary to measure the relevance of the content you publish on your website. In such a way that all the ads must go through a kind of web scanner that determines the quality level of what you are offering. 
The impact that your product creates, here comes the attractiveness of the headline you choose for your ads, when creating them you should consider adding all the information that may become relevant to the user and even include links to other specific pages. But Google takes into account the impact on ad performance that extensions and ad content will have.