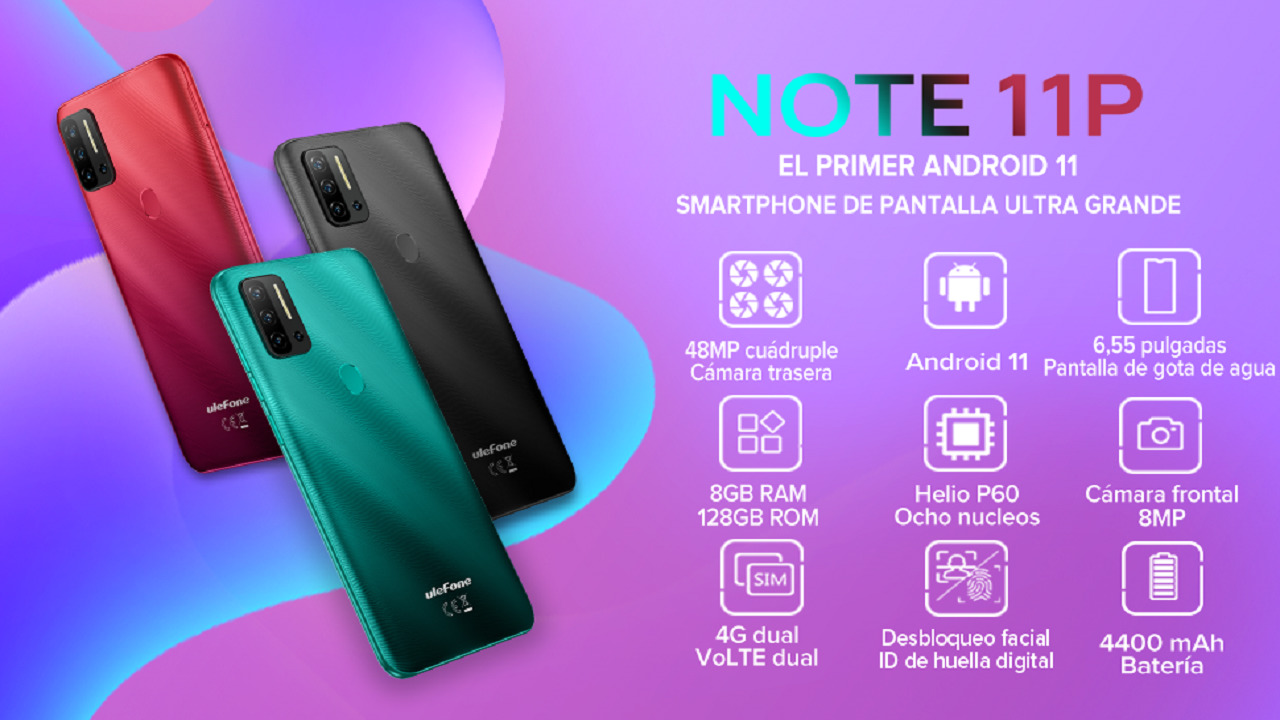 We have been talking to you for a few days about the news in the field of cheap smartphones. We know that there must be as many options as there are types of users in the world and many of you ask us to bring you reviews about cheap mobiles, within the reach of almost any pocket. And a new example is this  Ulefone Note 11P , an economic model, with a large screen (hence its last name Note) and that comes well loaded with accessories so that you do not have to make any additional purchases when you get home and you can start shopping. take care of it from day one.
If this model catches your attention, keep reading that we will tell you everything about it below.
Ulefone Note 11P design and display: Ulefone Note 11P, a cheap smartphone with a huge screen
It is 166.9 mm x 77.2 mm x 9.95 mm in size and has three colors available,  black, red or green , with a very nice satin effect. The truth is that Ulefone has been able to create a smartphone that is very attractive to the eye, narrow, light, with a color that is pleasing to the eye and a camera module perfectly integrated into its back cover. Also in the central part of the rear, slightly raised towards the top, we see its  fingerprint sensor . A location that, although not ideal, seems comfortable and appropriate for the price.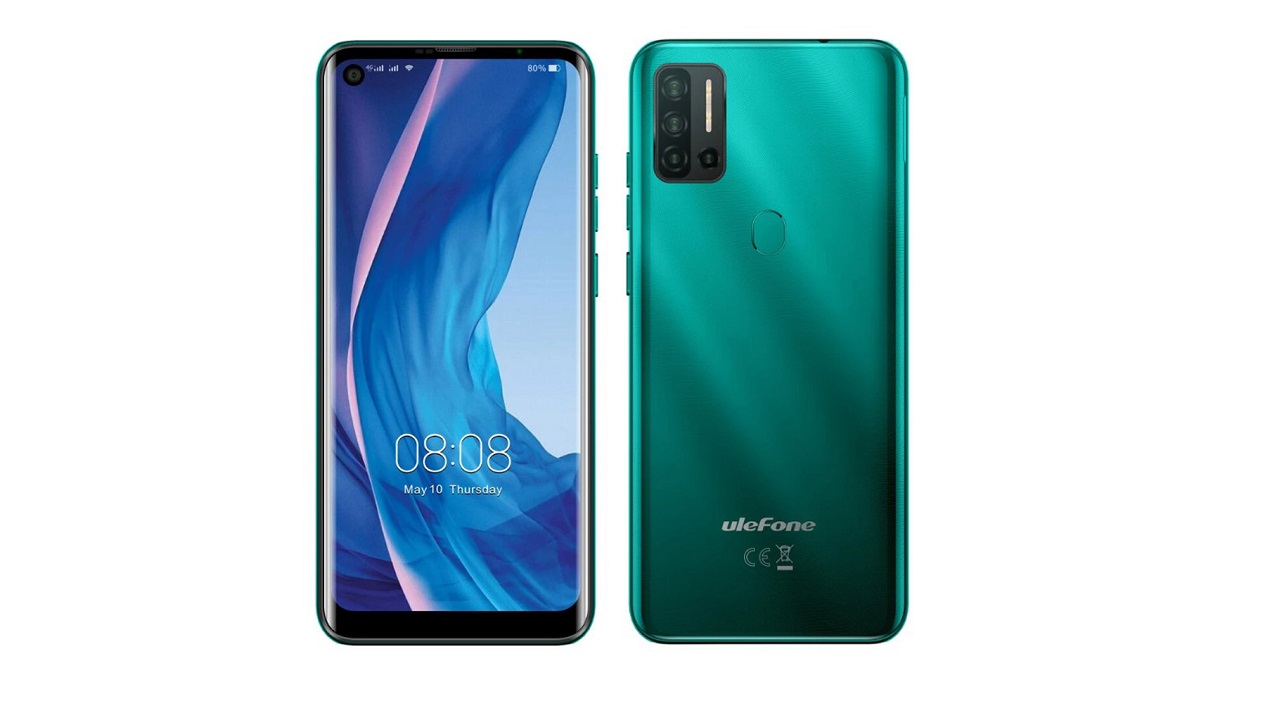 As for its screen, we have before us a diagonal of  6.55 inches , with a resolution of  720 x 1600 px . It is not the best resolution you will find and its image quality is not perfect, but it more than meets expectations and relies on a good level of brightness so you do not have problems indoors or outdoors. Of course, there will be certain moments when it does fall short, for example, on the beach or in the pool, you may have to look for the shade of the umbrella to be able to see your mobile without problems. It is not only a matter of this model, you would be surprised to see how many higher budget smartphones have this same "problem".
What stands out in your hardware?
If we want to know what performance this model is going to offer us, the truth is that it gives us the odd surprise, taking into account what we would expect from it. It comes with an octa-  core  Helio P60 processor, with a 2.0 GHz maximum clock frequency, which offers a good balance between performance and energy efficiency. Its GPU is a  Mali-G72 , so you can play most games from the Play Store without major problem. Multitasking and running heavier apps is also guaranteed thanks to its  8 GB  of RAM. And if what concerns you is the internal storage, it has  128 GB , which, in addition, you can expand  via MicroSD up to an additional 1 TB  .
The connectivity does leave us some shadow more than necessary. It does not have 5G, something that was already predictable, but neither does NFC, a technology that we know is essential for many of you due to the convenience offered by mobile payments. In return, it does come with  4G, Dual SIM, WiFi 802.11 a / b / g / n / ac, VoLTE, Bluetooth 5.0, GPS, FM radio and 3.5 mm jack .
As for its battery, it has a capacity of  4,400 mAh and charges  via USB-C . Some data that does not stand out for being superlative but that does not fall short either. You will have an autonomy similar to that of other terminals, around 1 day or 2 days with little use. At least we must thank Ulefone for having banished the microUSB port that some models still incorporate and that already sounds like prehistory.
Its operating system is  Android 11 .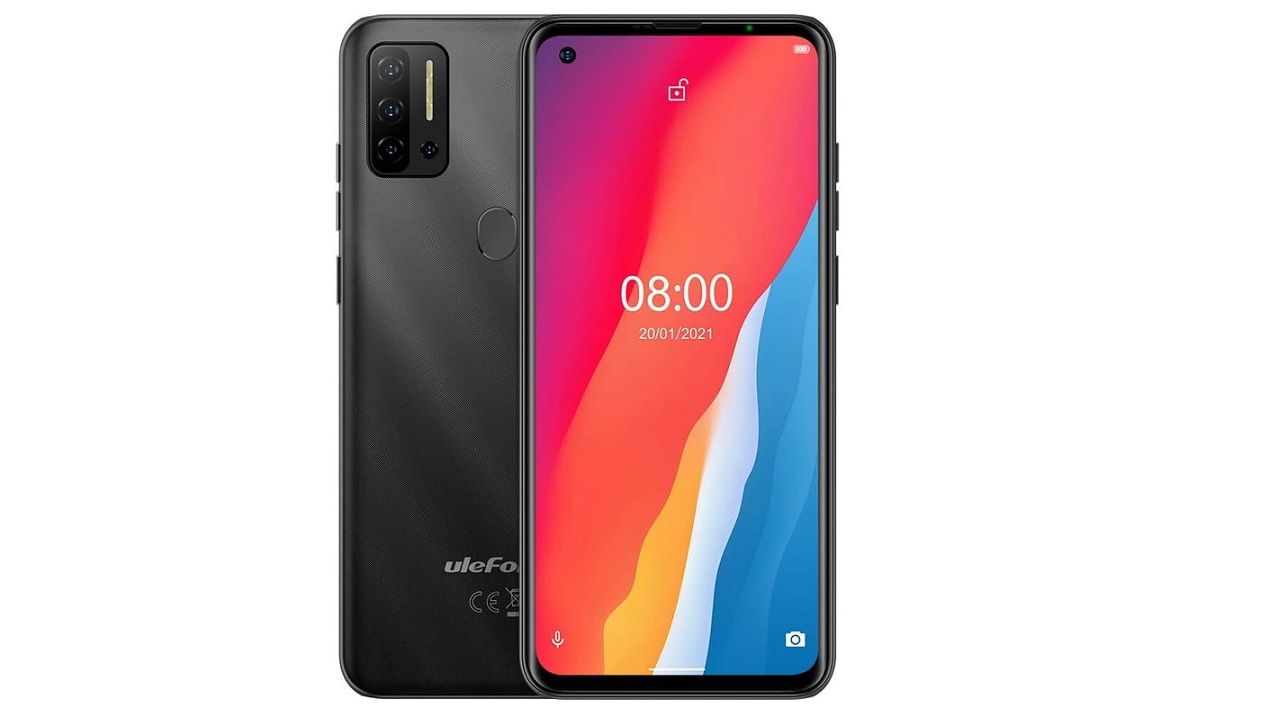 Fighting cameras: Ulefone Note 11P, a cheap smartphone with a huge screen
Very beautiful on paper, but you know that photography is not based only on megapixels or accumulation of sensors. This Ulefone Note 11P has a 48 MP + 8 MP + 2 MP + 2 MP rear  camera and an 8 MP front camera . Some technical data that is not bad at all.
In practice, the truth is that you can't expect much from them, to be honest. Such cheap phones click precisely in this section and it is normal. Cameras are one of the most expensive components in smartphones and the effort to incorporate more and more lenses makes this point absurdly expensive. We always say it: better a single good camera than four regular cameras. And it is just what happens to this Ulefone Note 11P. The results of the photographs are fine if you do not want great results, that is, for fighting photos of the day to day that you are going to share on WhatsApp and little else, they will be more than enough. But to create portraits worthy of printing or to capture landscapes to put them as wallpaper, they are not the most solvent on the market.
Technical characteristics of the Ulefone Note 11P: Ulefone Note 11P, a cheap smartphone with a huge screen
ULEFONE NOTE 11P

DESIGN

Dimensions

166.9 x 77.2 x 9.95 mm

Colors

Black / Red / Green

NET

Technologies / Bands

4G

SIM type

Dual sim

SCREEN

Display technology

IPS

Dimension

6.55 inch

Resolution

720 x 1,600 px

Multitouch

Yes

PERFORMANCE

CPU

Helio P60

GPU

RAM

8GB

STORAGE MEMORY

Capacity

128GB

SD slot

Yes, microSD up to 1 TB

OPERATING SYSTEM

Version

Android 11

CAMERA

Resolution

48 MP + 8 MP + 2 MP + 2 MP

Secondary camera

8 MP

BATTERY

Capacity

4,400 mAh

loading port

USB-C

CONNECTIVITY

Wifi

Yes

Bluetooth

Yes

Gps

Yes

NFC

Do not

FM Radio

Yes

3.5 mm jack

Yes

OTHER FEATURES

Security

Fingerprint, Face ID

Box contents

1 x Ulefone Note 11P

1 x 1 meter USB-C cable

1 x Wall adapter

1 x Case

1 x Screen Protector

1 x SIM skewer